The Croft Guest House

British Tourist Authority
Haseley Knob, Warwick, CV35 7NL, U.K.
Telephone: 01926 484447
Fax: 01926 484447
email: david@croftguesthouse.co.uk


---
Come to The Croft and you will stay in a large family house set in the picturesque village of Haseley Knob. Here you will immediately be impressed by the friendly family atmosphere and pleasant surroundings. Why stay in a large impersonal hotel when you can get most of the same comforts but with added personal touches? The Croft is ideal for both the overnight business stay or as a holiday centre from which to explore the Midlands.
All the rooms are centrally heated with individual room temperature control and are decorated to a very high standard. Most bedrooms have ensuite shower, washbasin, and toilet facilities. All have colour TV, easy chairs, bedside lights, radio alarm clock, hairdryer and tea and coffee making facilities. There is free WiFi internet access to all guests, so bring our laptop, tablet or smartphone.
The two ensuite ground floor bedrooms, good for those who cannot climb stairs, have French windows which are ideal for pets. Pets welcome in some rooms, subject to a small additional charge.
Shoe cleaning equipment, ironing facilities and other requisites are available on request. A cot and high chair can be provided.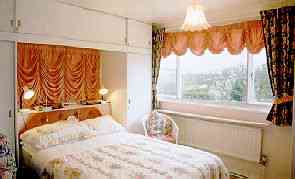 In the evening you may make use of the Residents' Lounge with Sky TV or hi-fi background music of your choice whilst you read the large supply of tourist information and plan the next day's visits. If you would like help just ask - we try to keep up to date with events in the area.
There is a large number of good pubs/restaurants nearby catering for all tastes and diets so we rarely serve evening meals these days. We can recommend about ten places within a few minutes drive and will be pleased to help you choose.
Breakfast can be served early for keen business guests or up to 9am for 'slow starters'. All breakfasts, served in the Conservatory Dining Room overlooking the gardens, are individually cooked and can be varied from a simple fruit juice and toast to a four course English Breakfast with all the extras.
There is ample parking space and we also have a site for Caravan Club members with electric hook-ups, toilets and shower. Please phone for details.
THE FAMILY
At The Croft you will find the whole family involved so you may like to know a little about us.
Pat and David built up The Croft from a derelict cottage and have been taking guests for over twenty years. Before this Pat was a nurse and is also a qualified and talented cook. She has many hobbies and is currently learning to paint.
David is an engineer by background, and spent some time in the building industry before becoming fully employed at The Croft.
Although originally a small holding we don't keep many farm animals now, but we may have horses or sheep in the fields in front or behind the house. Many of the birds in the garden fly up to the bird table a few feet away from you as you eat breakfast. Those interested in animals might like to visit Hatton Country World and Craft Centre, only 3 miles away.

HOW TO FIND US
We can give you detailed instructions from any direction, or you can find your own way from our sketch map (16K) which you may print out to help you.
---
David Clapp (david@croftguesthouse.co.uk)